Salesforce PDF Document Extraction
Split, Extract and Import PDF Pages Directly Into Objects!
Why use DocuSplit?
Developed with Enterprise users in mind, Docusplit streamlines PDF page extraction and import into SalesForce.
A tedious 15 step process of extracting and importing can now be reduced to just 7 simplified steps.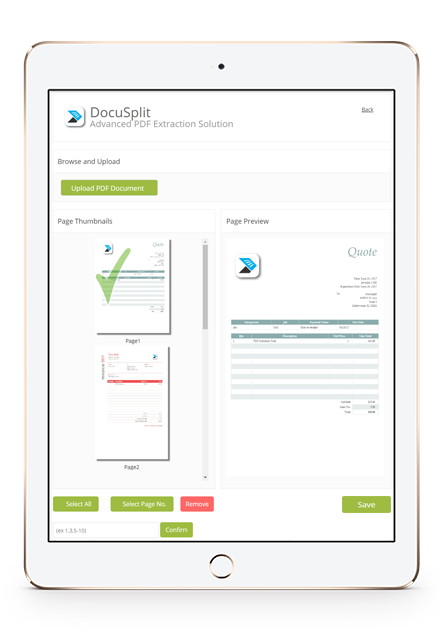 Ease of Use
Recognizable user friendly platform with display of saved and non-saved pages.
Time Saver
90% Reduction of extraction and import times.
Page Selections
Click multiple thumbnails or type the numbers of the page to extract and save.
File Naming Defaults
Never have to name a file again. Setup a default file naming structure in under 5 minutes.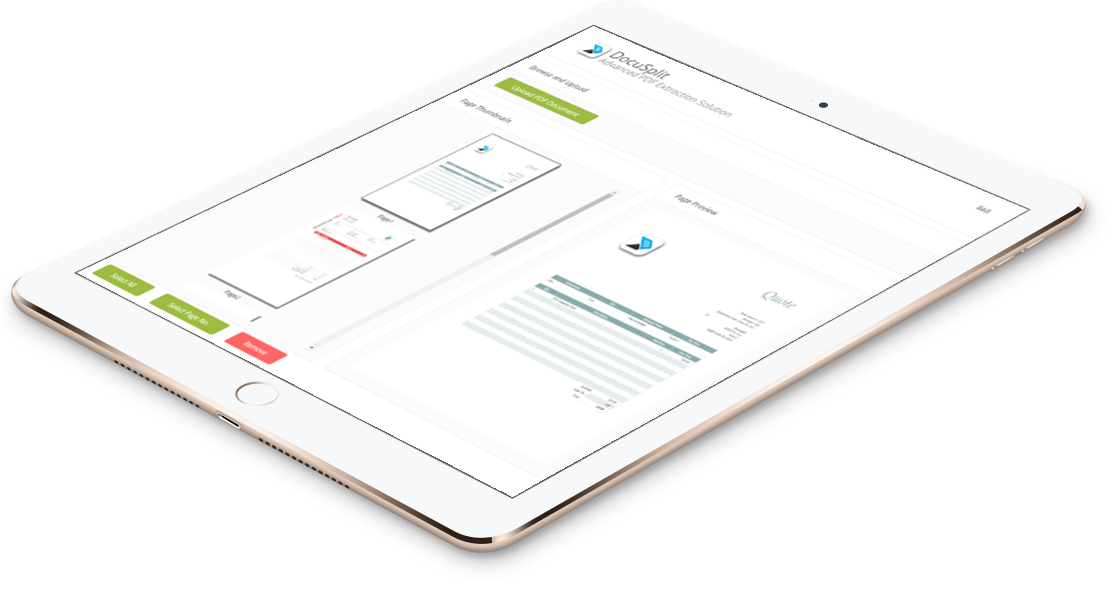 PDF Document Upload

Upload multi-page or single page PDF documents.

Thumbnail View

View and select the thumbnail of each page in your PDF document.

Full View Zoom

Zoomed-in view of the selected page.
Object Selection

Save pages directly to leads, opportunities or any other Salesforce object types.

Document Type

Create a picklist of document types to associate with the saved pages.

File Format

Save the document as a multi-page PDF or a single page PNG, JPG or TIFF.
What Clients Say
Michael Horvath - CMO

Revenova

Using the Docusplit solution has made the process of extracting PDF files incredibly efficient! Simply an amazing solution developed by a phenomenal team.
Adi Argov - CTO

MAC Properties

Using Docusplit, we were finally able to improve our productivity and ease the burden of importing PDF pages to different Salesforce objects. Thank you!
Our Plans
Available
Options
File Import Limitation
Technical Support
Supports Twain Scanning
Additional Functionaltiy
Customized Fields and Triggered Salesforce Workflows
Unlimited

PDF Uploads

Free Support

Upload Only

No Additional Functions

No Customization
Download Now
Unlimited

PDF Uploads

Free Support

Upload Only

Crop, Rotate & Annotate

No Customization
Download Now
Unlimited

PDF Uploads

Free Support

Upload and Scan

Crop, Rotate & Annotate

Trigger or Create SF Workflows
Download Now
Contact Us
Have more questions about how the Docusplit product works? Feel free to reach out to us using the contact form below.